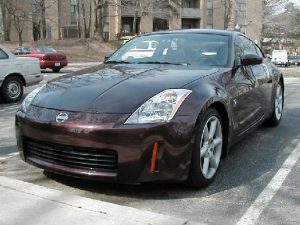 This is my (uh, our) 2003 Nissan 350Z Touring Model with 6-speed manual transmission in Brickyard Red. This was taken in the parking lot of our Alexandria, VA, apartment; this car has not been to the track… yet! We bought this car on the last day of January, 2004. We were going to get a 2004 model in Brickyard Red, but then we found out that Brickyard Red was discontinued for 2004. We briefly considered a Chrome Silver 2004 but finally decided to see if the 2003 was still available (it was a showroom floor model). It was (obviously) and we bought it. We both really like the color better than any of the other 350Z colors. We traded this car in when we needed more room (primarily to be able to take the dogs with us when we visit my family, but also because it's nice to have a more utilitarian vehicle), and purchased a 2007 Nissan Quest 3.5SE. Sadly, this car never made it to the track (at least while we had it). Also, we no longer have the apartment in Alexandria.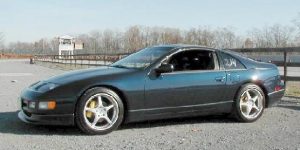 This was my naturally aspirated 1990 Nissan 300ZX Coupe. In this photo, it is awaiting the first track session of the day at Summit Point Raceway in Summit Point, West Virginia. Sadly, I had to sell it shortly after purchasing the 350Z, since it would not pass Maryland's "safety inspection" that is required when registering a car for the first time (among the "problems" cited were the fact that the wheels weren't the stock size – even though the rolling diameter and contact patch were within a few percent, the fact that it was lowered, and, get this, the fact that it had no rear seat belts – note that this is a two-seater!) Oh well, gone but not forgotten…

This is my normally aspirated 1983 Datsun 280ZX Coupe, awaiting the first track session of the day (that's why the wheel center caps are removed). To the passenger side you can see a 240Z owned (and operated) by a fellow member of the Z Car Club of Northern Virginia (ZCCNV). On this particular day, a few intrepid members of our club got together at the local track to enjoy our cars. A good time was had by all, we all learned a lot, and no sheetmetal was bent.