Road Trip – Almost Heaven
Note: this is still a draft version of this post…
Because I'm so slow to get back to writing these travel posts, I'm going to start publishing the drafts (yeah, I know that's an oxymoron). I'll try to get back to finish these posts in the not-too-distant future…
Stats for this Trip
This trip spanned 1309.7 miles and consumed 56.677 gallons of gas, for a fuel mileage of 23.108 mpg. Not too bad for driving in the mountains of West Virginia.
Still in Maryland: Rocky Gap State Park, and Puccini Restaurant
Last time we were near the Cumberland, MD, area (actually, last time we were near there we stayed in Cumberland for a couple of days) we thought about visiting Rocky Gap State Park but never did. So this time, because we had plenty of time, we decided to drop by there on the way (it's a bit east of Cumberland). We were glad we did. It was a very pleasant, relaxing hour or so with perfect weather and not many people. We left there in time to get to Puccini Restaurant – our very favorite restaurant in the area – around 6 p.m., where we had a relaxed dinner of, well, it doesn't really matter, because everything we've ever had at Puccini has been excellent.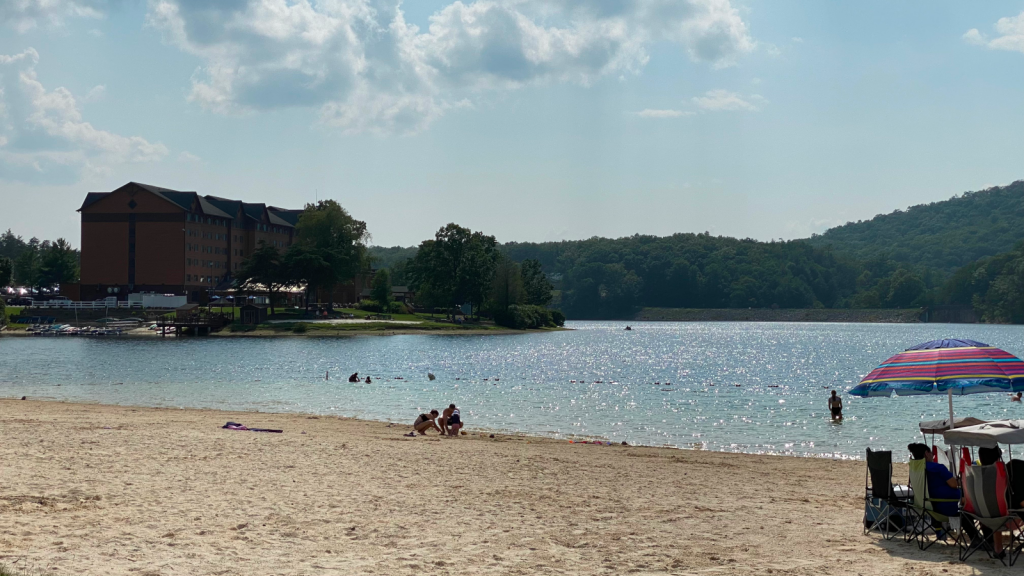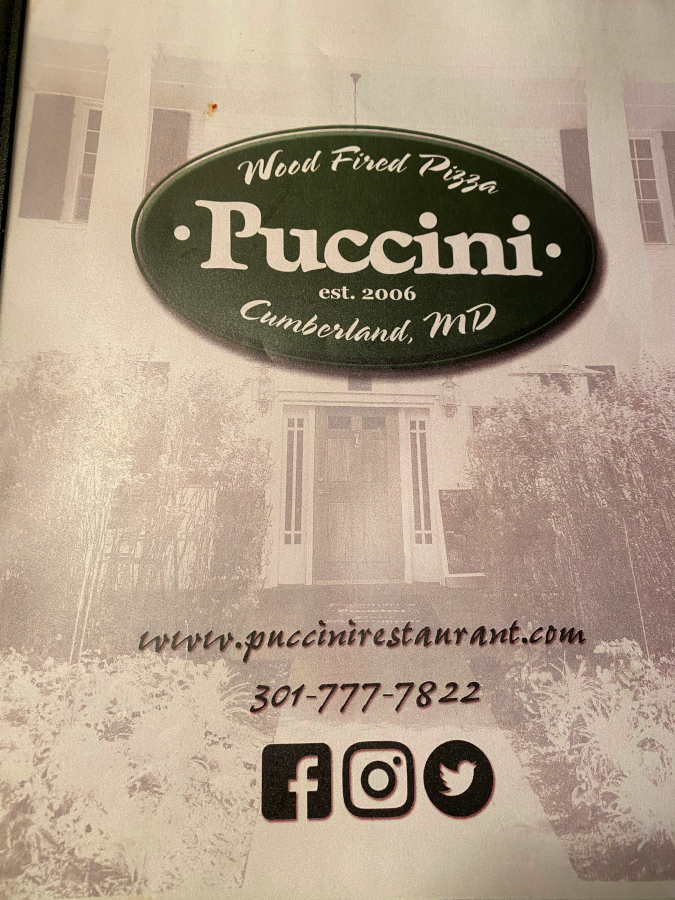 Finally in West Virginia
It was a very easy – and short, only 110 miles – from Puccini in Cumberland, MD, to our hotel (Springhill Suites by Marriott in Clarksburg/Bridgeport). The hotel was okay, but I wish we'd have been staying at the TownePlace Suites by Marriott, which was located right next door. TownePlace Suites generally have full size refrigerators and more storage area, although they are usually a few dollars more per night. The Springhill Suites is newer but is still showing signs of age and/or mild neglect.
Clarksburg/Bridgeport
We didn't have strenuous plans for the day, so we slept a bit late. It's a good thing we didn't sleep too late, though; just as we were about to leave to get some, ahem, "breakfast," the power went out for about a mile-or-so radius around the hotel. So, we headed for a Bob Evans that was a few miles away, hoping that they'd have power. However, right next door to the Bob Evans was a Tudor's Biscuit World, which we'd read about in some reviews of recommended restaurants in the area. So, of course we at there instead. It was really good, and a bit less expensive than Bob Evans would have been. It was also co-located with a gas station, a "GoMart" as I recall, so we got gas before heading to Helvetia, our destination for the day.
Helvetia, WV
Helvetia (pronounced hel-VEE-sha by the locals), WV, is a tiny town. No, really – we walked all over it in about 2 hours (I think its population high-water mark was around 300 people, with a current population of about 70). It was founded 1869 by a few Swiss and German immigrants, and you can find out more info from their webpage (helpfully linked in the first word of this paragraph.
The drive from the Clarksburg/Bridgeport area was, shall we say, interesting. We usually use Waze, a smartphone app, to navigate when traveling, and this day was no exception. I have Waze set to "Avoid Difficult Intersections" and to not allow unpaved roads, and I think that by default it tries to find the shortest route. Now, I expected some smaller roads because Helvetia is tucked away in the mountains of West Virginia, so when Waze said to turn off the main road onto a road with a prominent "Narrow Road Ahead" sign I wasn't too concerned. Perhaps I should have been.
The road got pretty narrow pretty quickly, and the houses – of which there were many more than we expected – were somewhat reminiscent of the banjo scene in the movie "Deliverance." After a while we came to a half dirt/half gravel road that was really narrow and rutted in places. If we hadn't already been on the narrow road for what must have been 10+ miles, I would probably have turned around. Oh well, the journey is part of the trip, so we pressed on. Eventually we turned onto a much more major road (two whole lanes with striping down the middle!) and Waze told us we were only about 5 minutes away from Helvetia, which turned out to be accurate.
It was well worth the trip, but I did ask a couple of locals (who were standing on the front porch of the town post office, general store, inn, and museum (all in one building)) if there was a more straightforward way back to Clarksburg. They asked how we'd gotten there and chuckled a bit when I told them, after which they said, yes, just stay on the "main" road (County Road 46 to County Road 11) back out of town and look for signs to State Route 20 and go north. This was much "better" (well, at least bigger, smoother, and paved all the way) than the Alton Rd/Big Run Rd/Hinkle Ridge Rd route we'd used to get to Helvetia.
Helvetia was an interesting place, and the "Our Own Sausage Sandwich" paired with homemade sauerkraut at the town's Hütte Restaurant was amazing. If you go to Helvetia, be sure to eat there (it's really the only place in town to eat).
So, how in the world did we decide to visit Helvetia? Well, our oldest granddaughter plays a video game called Fallout 76, which is set in West Virginia, and Helvetia is one of the places in the game. When she heard we were traveling to West Virginia she suggested visiting, and we were game (no pun intended).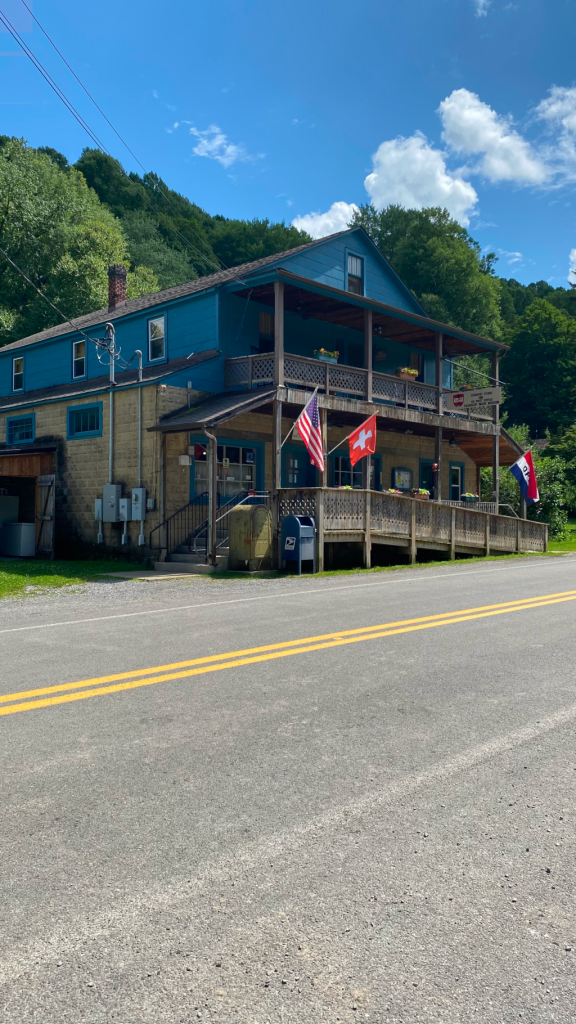 An aside: while the trip back to our hotel was uneventful, not long after we got back there the power went out again. It wasn't out for long – maybe half an hour – but we hoped this was not a harbinger of things to come.
Valley Falls State Park
On Friday, July 21, we decided to visit Valley Falls State Park. The trip there was not nearly as convoluted (or interesting) as the trip to Helvetia. We walked along the rocks on the edge of the river and enjoyed the views. The day was warm, and we did have a few minutes of very light rain, but we stood under a tree so we didn't get wet. A very pleasant afternoon.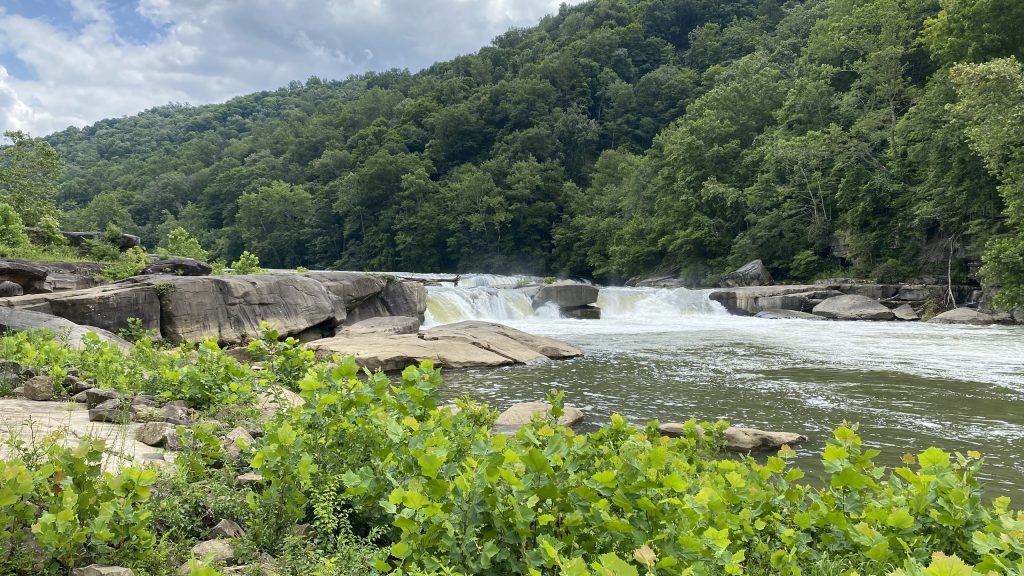 More Bad News for Clarksburg & Heading for New River Gorge NP
On Saturday we checked out of the hotel and drove to a nearby Denny's for breakfast (well, really more like brunch, but Denny's is one of those happy places that has breakfast all day). We got seated, ordered, and ate. We asked for the check, and Nancy asked where the Ladie's Room was located. The server provided the check, but said that the restrooms were closed – and, in fact, the entire restaurant was closed, and they weren't letting any more people in – because of a water main break in the area. As we left we saw a lot of water on the road and nearby parking lots. At least we were leaving the area. We must have found a restroom somewhere nearby off I-79, as I don't remember any "emergencies" on the trip to New River Gorge.
The route from Clarksburg to Beckley took us over the New River Gorge bridge, and, of course, past the National Park's visitor center. So we stopped for a few minutes to stretch our legs and see a few sights. And get some ice cream…
This is a view of the bridge from an overlook near the visitor center.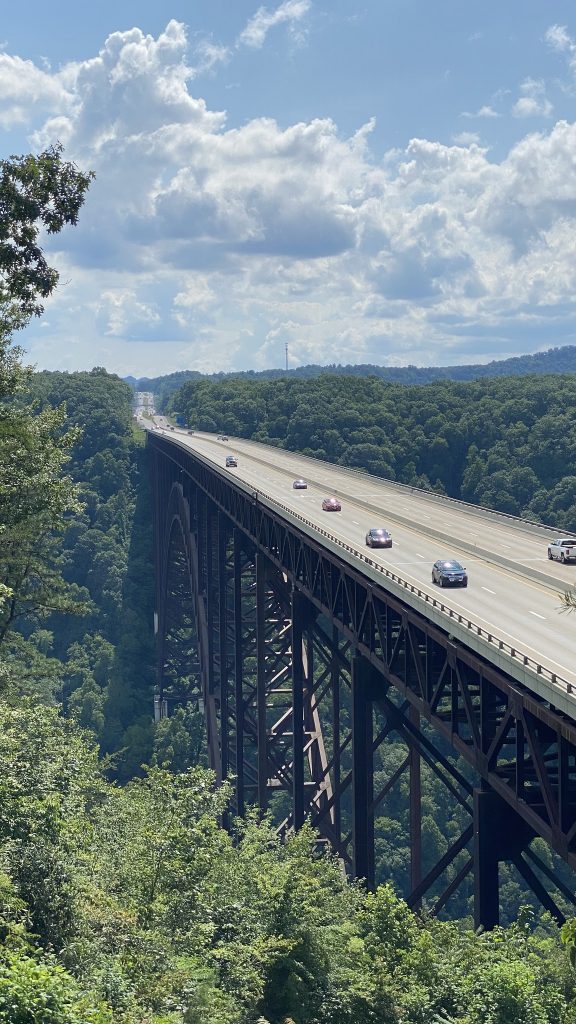 Courtyard by Marriott Ain't What It Used to Be
We almost always stay at a Marriott property when we travel. We prefer Towneplace Suites, and use them even if the cost-per-night is a bit higher. We also like Fairfield Inn and Suites, as well as Residence Inns. We've also had good experiences at Courtyard by Marriott – until this trip.
The Courtyard in Beckley, WV, seems a bit outdated and, well, run down. It appears to have been remodeled at some point (not recent!), as evidenced by the shower-only bathroom that obviously had a tub-and-shower before. The shower looked (mostly) modern but was so narrow that I had to stand sideways to use it. When I pulled my towel off the towel bar, the entire bar came off the wall and clattered to the tile floor.
I was under the impression that Courtyards were supposed to be a bit upscale, and our previous experiences had been good. For instance, we stayed several days at the Courtyard on the Riverwalk in Rome, GA, in 2022 and it was excellent. The one in Beckley, WV, was… not.
Sandstone Falls
Probably my favorite place of the entire trip was Sandstone Falls, which is a little bit upriver from the bridge. Note that this means it's a bit southeast of the bridge – the river flows north. The drive to the parking area was pleasant, and there was a short, easy walk to get to the falls area. Here is one of the several beautiful views.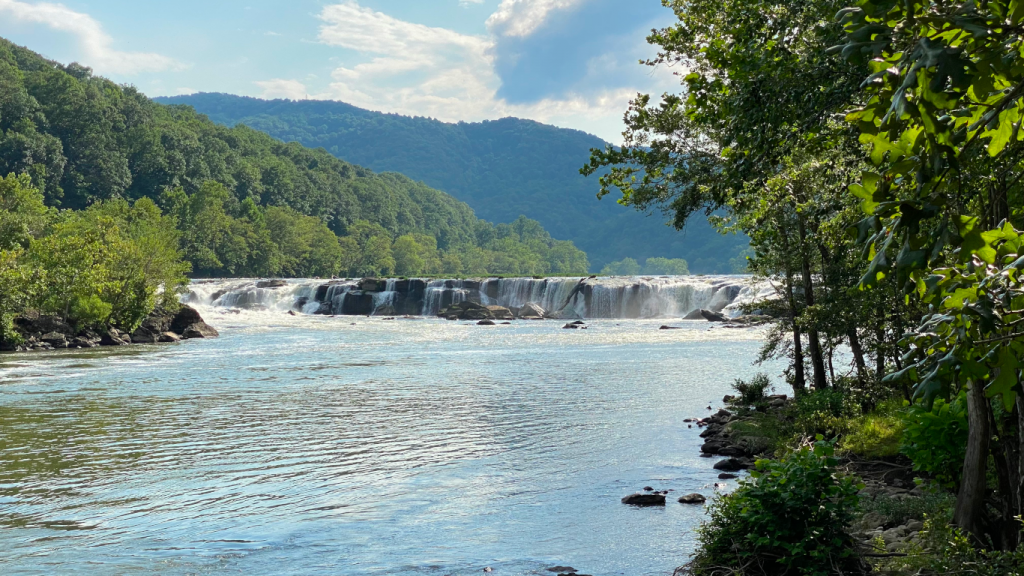 Coal Mine, Moonshine, or Move it on Down the Line
Coal mining was – and, I think, still is – a huge part of the economy of West Virginia overall, and of the Beckley and New River Gorge area in particular. We spent one afternoon traveling to and waking around Thurmond, WV. The drive to and from Thurmond was quaint, and quite scenic on the small, twisty, backroads. I was reminded of a scene from the movie, "Coal Miner's Daughter," in which Lee Dollarhide (played by William Sanderson) is talking to Doolittle Lynn (played by Tommy Lee Jones) right after Lee's brother's body is brought back to town on a mule – killed by (as I recall) a competing bootlegger. Lee tells Doolittle something to the effect that, "if you're born around here there's only three choices in life: coal mine, moonshine, or move it on down the line." Of course, Butcher Hollow is in Kentucky; however, it isn't too far from Beckley, WV (maybe 75 miles as the crow flies if I'm looking at the map correctly), and I suspect the culture of the two is as similar as the topography. Let's hope that things have improved in both areas since the 1930s and 1940s.
Under the Bridge Walk
On Tuesday, July 25, we did the Bridge Walk. A couple of friends from Maryland joined us for part of the trip, and they also joined us for the Bridge Walk. Here is a "before" photo of the four of us. We did, obviously, make it back okay. It was an interesting experience, and if you're in the area – and not too afraid of heights – you should check it out.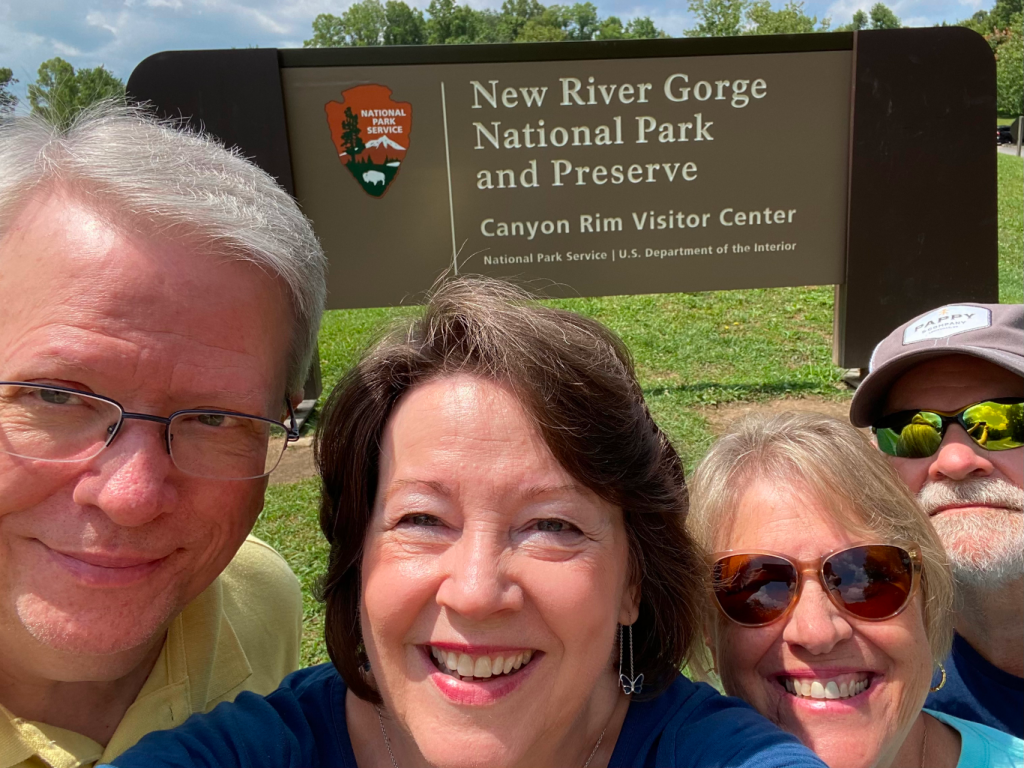 I'll add some photos from the actual walk soon – Nancy took plenty of them.
Headed Home, and I Hate I-81!
We drove back from Beckley, WV, to Salisbury, MD, on Thursday, July 27, 2023. We normally try to travel on Wednesdays because I think the traffic is a bit less problematic, but Tuesdays and Thursdays aren't too bad, usually. I also usually try to avoid I-81 whenever possible, and I should have avoided it this time as well. Traveling up I-79 in West Virginia would have been a bit longer distance, but it would have been much more peaceful. I did avoid the Washington, DC, area by going all the way to Martinsburg, WV, and then heading east toward Frederick, MD, and then back on I-70. That added about half an hour, but was well worth it.