Myrtle Beach, SC
We left Columbia, SC, on Sunday morning, October 17, 2021, headed for Myrtle Beach, SC (well, technically, North Myrtle Beach). Google Maps (which I use to get a route overview) indicated that the fastest way was to head back to I-20 west, then to I-95 south, but also included an alternate route (about 3 hours instead of approximately 2.5 hours) that would take us through Sumter, SC. We were not in a hurry at all, so we decided to take the route through Sumter.
Sumter, SC
Although I've been to Sumter many times, the last time was probably around 1972 give or take a year or two. My family would often visit family friends there when I was growing up, and I remember many happy times in Sumter. Those trips – at least as I remember them – comprised driving from our house in Augusta, GA, to our friends' house in Sumter (about a 2-hour drive), staying there for a few days (usually a weekend), and then driving back home. I do not recall ever "doing things" in Sumter, or going out to eat, or even stopping for gas.
So, while passing through Sumter on this trip we wanted to look around a bit, get some lunch, and generally enjoy the gorgeous weather. Nancy used Google Maps to locate the historic district and we headed there as a place to start. It's interesting to note that Google Maps (at least in this instance) navigated us to a parking area adjacent to the old part of Main Street, which worked well for us.
We strolled up and down a few blocks looking in shop windows, reading a couple of historical markers, admiring the architecture of some of the old buildings, and looking for a place to get something to eat. The Opera House, the Courthouse, the First Presbyterian Church, and the Sumter Original Brewery buildings stood out to me as interesting and historically important landmarks. There were also butterfly decorations on several of the lamp poles! It was not obvious why they were there, but they were cool.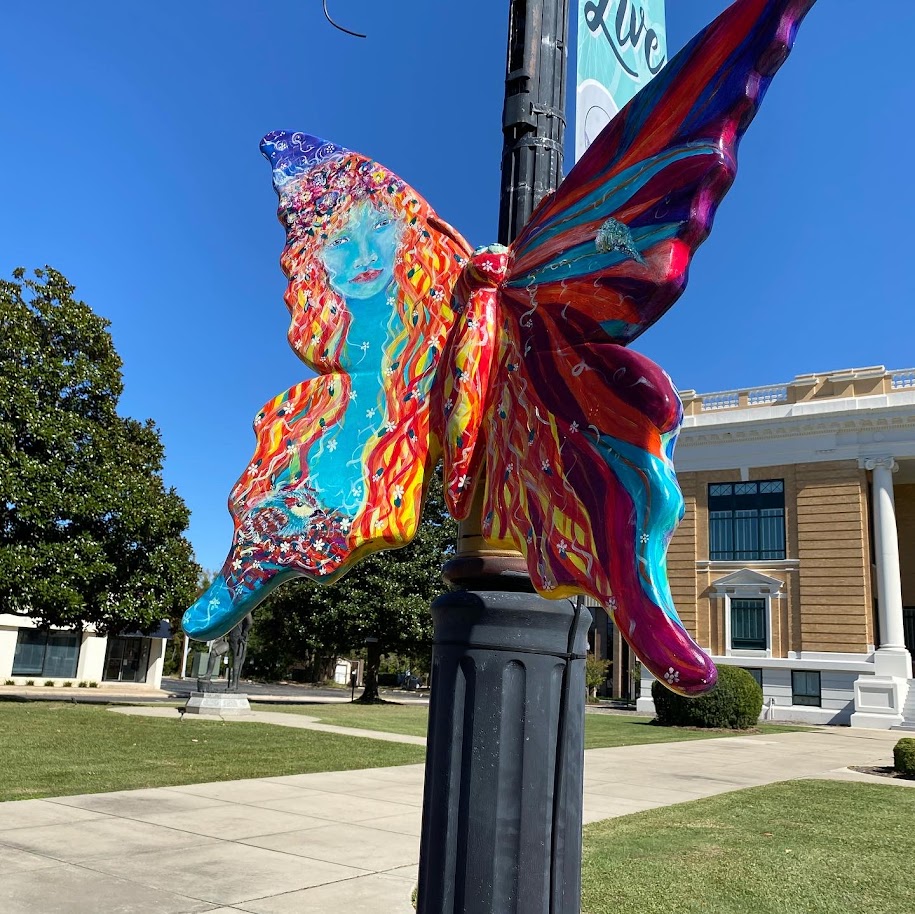 We saw two possible places to eat while strolling along Main Street. The first was Sumter Original Brewery (which had (covered) seating on the roof, and a "Terrace Restaurant" (I'm not sure what the name was – it's just north of the Opera House on the same side of the street). Nancy didn't have a strong preference, and I preferred the Brewery so we ate there. The menu is limited to either a cheeseburger platter or a hot dog platter (both included fries and a drink), so we each got a cheeseburger platter. Nancy (who does not like beer) got a Ginger Ale with hers, and I got the Gray Haze IPA, which I thoroughly enjoyed.
After lunch we headed back to the car and got back on the road to Myrtle Beach. We arrived at the Links Golf and Racquet Club around 5:30 p.m.
The Links Golf and Racquet Club
Andy's parents purchased a timeshare at The Links Golf and Racquet Club back in the 1980s when timeshares were the new vacation "thing." At the time, the golf course that is still readily apparent in a Google Maps "Terrain View" was apparently in full swing (yeah, sorry for the bad pun). I can't imagine Andy's dad buying a timeshare without a close-if-not-on-site golf course. You can check out the Google Map here: Google Maps (you might have to switch to "Terrain View" to see the golf course).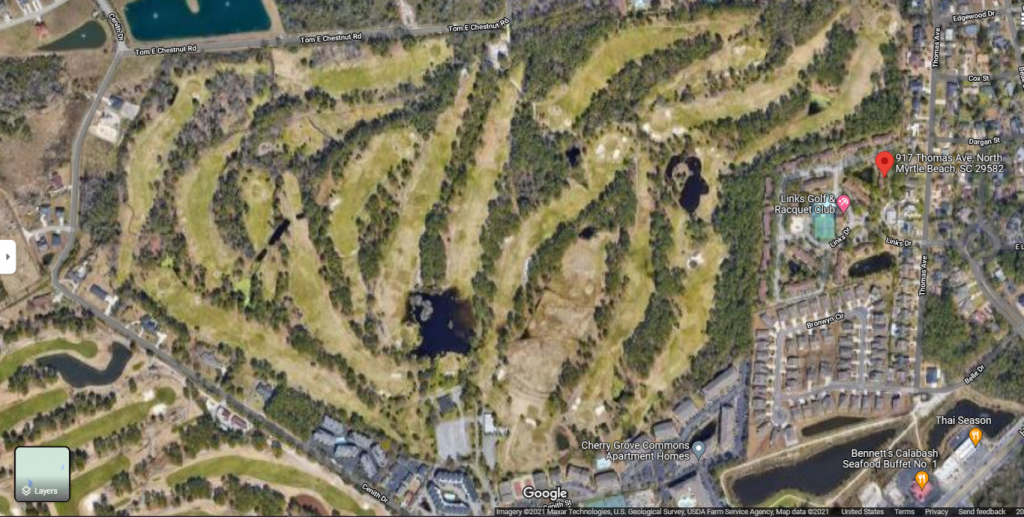 With the halcyon days of timeshares now in the distant past, I suspect many are enduring the slow death that is evidently overtaking The Links. The approach du jour is the "points" approach (you can learn all about this by Binging it (https://bing.com), to which RCI (Resort Condominium International) is pushing hard to get their members to convert. In fact, The Links did not even try to sign us up for the infamous come-see-our-sales-pitch-and-get-free-stuff fiasco. On the other hand, their new partner, Capital Vacations, offered us $100 worth of vouchers to a local restaurant to go to an "owner update" meeting. More on that below.
After checking in and putting our luggage in the unit, we headed off for some light dinner and then to the local Kroger to get supplies for the week.
The "Owner Update" Meeting
On Monday afternoon, we dutifully went to our "Owner Update" meeting, at which I had been assured we would not be subjected to any sales pitch, and where, of course, they tried to get us to convert to their points membership. While we would like to get rid of the timeshare, we did not find their offer compelling (much to their chagrin). Basically, they wanted a boatload of money up front and double the annual maintenance fee for points that we could use for fabulous vacations, flights, meals, to pay the maintenance fees, to ride unicorns, yada, yada, yada. I'll probably write a whole blog post about this subject at some future time.
The meeting left such a bad taste that we just had to find an ice cream shop and get some ice cream (hey, any excuse is better than none ;-). After looking at Google Maps to see what was nearby, we finally ended up at Ella's Ice Cream.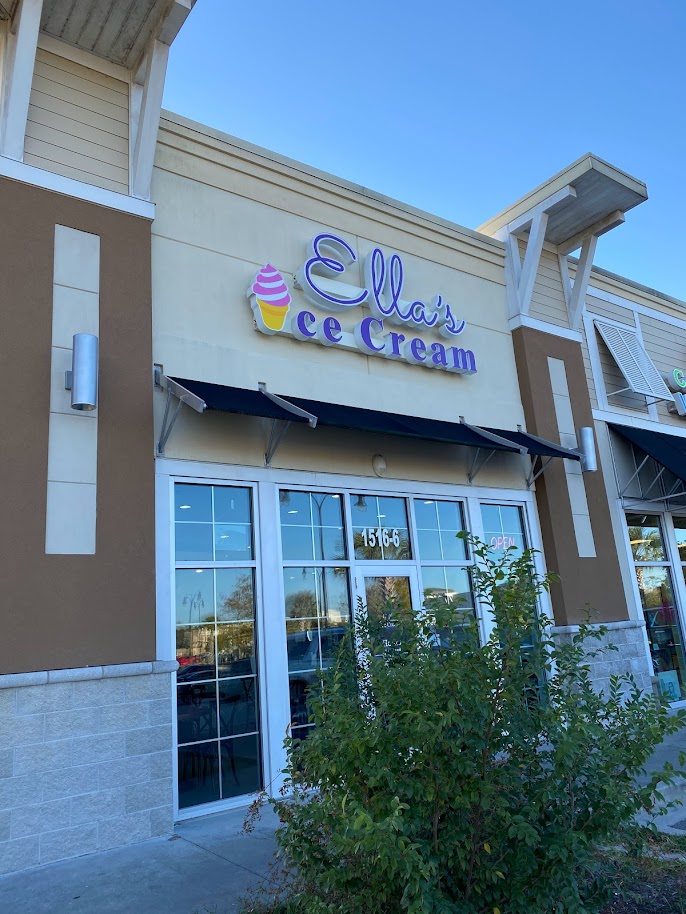 Timeshare Technology
As mentioned above, the heyday of timeshares has passed, and, with it, apparently any effort to properly maintain the properties has declined as well (I can't speak for all, just all of the ones that we've stayed at in the last 10 or so years). Along with crumbling caulk, mismatched flatware, and rocking toilets, one of the most glaring deficiencies is in the technology – namely the WiFi, the Cable TV, and the TVs themselves.
Judging from the signal strength, they are apparently trying to cover the entire development with one or two access points (APs). The speed is okay, mostly, but varies with the signal strength, which varies with… something, I guess. The only exception to this rule that we've found was at Harbor Point, in Harbor Springs, Michigan, which I think had one AP per unit with a wireless network for that unit only. That's a better approach all around – signal strength, speed, and security – but obviously costs more.
The Cable TV provides a low-resolution picture that looks terrible. The channel selection is decent, but who wants to watch anything at, I'm guessing, 480p (maybe 720p, but no higher than that).
The TV itself is not too bad. It has HDMI inputs accessible on the left side, and is capable of 1080p. I keep an HDMI cable in my electronics bag, so we were able to connect the laptop to the TV. We watched shows I downloaded from Netflix and Amazon Prime before we left home; I'm not sure if we could successfully stream anything on the WiFi here. At 1080p resolution, it was very watchable, even if we did have to sit pretty close to it (the TV is only a 37″ screen).
UPS Store and FedEx Store and Rioz
Nancy was in the middle of some farm-related business when we left Salisbury, and some of the documents she needed to sign were time critical. In order to get everything completed on time, the other party was going to overnight some documents for her to sign… in the presence of a Notary Public.
We looked around for a Notary and the bank that we called said that the UPS Store had a Notary. We called, and in the recording on the voicemail system it said they had a Notary on site during all business hours and no appointment was necessary. We received the documents on Tuesday morning and headed off Tuesday afternoon to the UPS Store.
The other party had also included a prepaid FedEx overnight envelope to return the signed and notarize documents, so after the signing we headed to a nearby FedEx store. Altogether it only took about an hour (including finding the UPS Store (Waze routed us through a McDonald's parking lot)) to get everything done.
Once we were finished with that it was getting near dinner time, so we decided we'd head to the Rioz Brazilian Steakhouse (for which we had $100 worth of vouchers from the "Owner Update" (see above). It was delicious – just like the other two Brazilian Steakhouses we've eaten at before (Fogo de Chao in Dallas, TX, and Rodizio in Nashville, TN). If you've never tried a Brazilian Steakhouse, we highly recommend it – but be hungry when you go!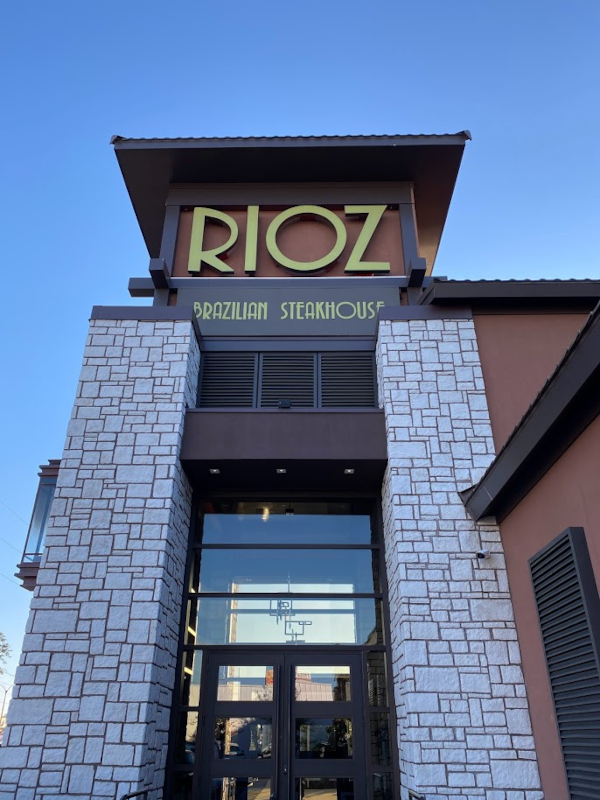 Possum Trot Golf Course
I did a little research and found out that the golf course that used to be adjacent to the "The Links" was named Possum Trot Golf Course, and it was a public course – not affiliated with the timeshare in any way.
The course ceased operation in October 2019, which was only two years ago as I write this. There are still a couple of places where it's possible to easily walk from the timeshare property to what was the golf course.
I walked a fair way (yes, a terrible pun; sorry, not sorry) in each direction on the decaying cart path. In one direction I found what must have been a "Tee Marker" (the signs that say what hole you're about to play and give the distance and par score).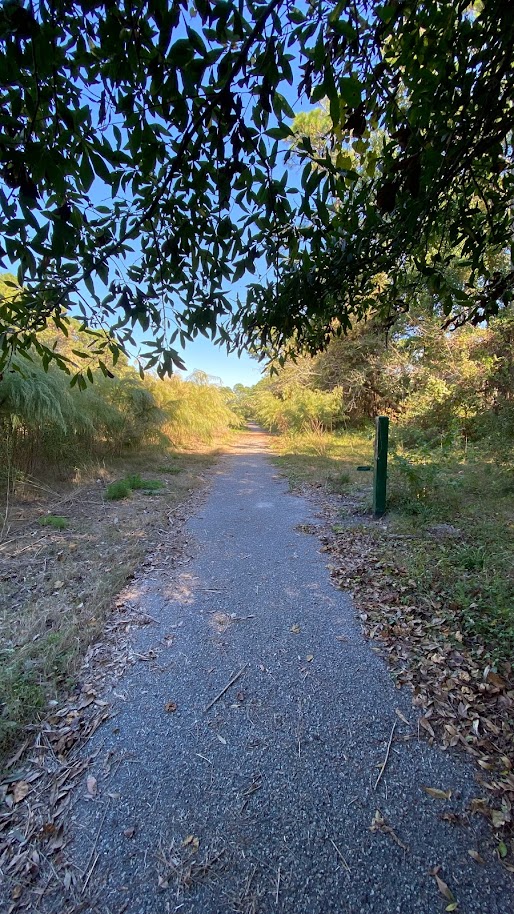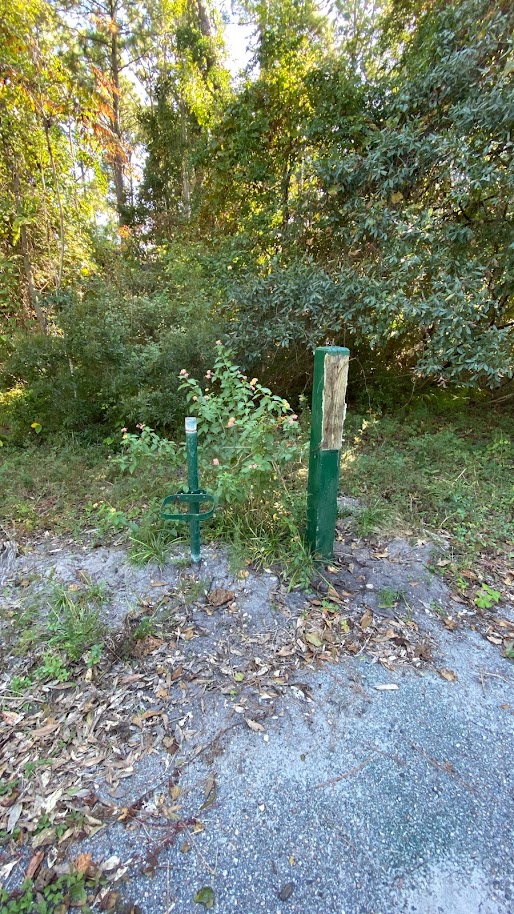 In the other direction, I found what was obviously a sand trap, which means there was likely a green nearby. Not much is visible of the tees, fairways, and greens due to the overgrowth of some type of plant. From the height of the growth and the decay of the cart path I would have thought the course had been abandoned for at least 10 years. I guess nature reclaims land quickly when there is no concrete involved.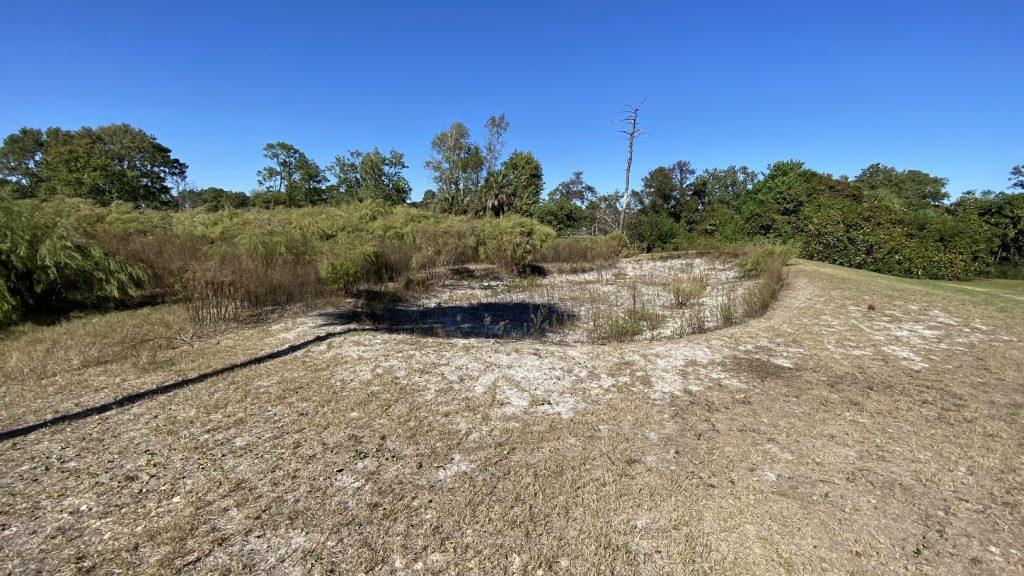 Possum Trot Golf Course was in operation for 51 years, and I'm sure Andy's dad played it many times. The end of an era, I guess. Nothing lasts forever.
The Beach, Putt-Putt, and a Seafood Buffet
We finally made it out to the actual beach! The Links is not on the beach, or even in walking distance, but they do have a nice cabana (complete with rest rooms and shower rooms) that is in walking distance (maybe .2 miles as the crow flies). We parked at the cabana, I (Andy) changed to my "beach shoes" and off we went.
It was a warm day, but there was a nice breeze on the beach so it was very pleasant. We met a couple of nice dogs (and their owners) and generally had a good, relaxing time.
After the beach, we stopped at Painter's Original Ice Cream and got some ice cream!
After ice cream, we drove a bit north and found Lost Treasure Golf, one of the many Mini-Golf (what we always called Putt-Putt) purveyors in North Myrtle Beach. A round of 18 holes for the two of us was $24, which seemed a bit on the high side, but everything is a bit on the high side these days.
This round was noteworthy for the fact that Nancy and I actually tied in our scores. She was leading by several strokes going in to the last hole, and pointed out that this would be the first time she'd ever beaten me at putt-putt in our entire marriage. Sadly, on the last hole she had some issues and didn't quite "win" the match. Maybe next time.
At any rate, a good time was had by all.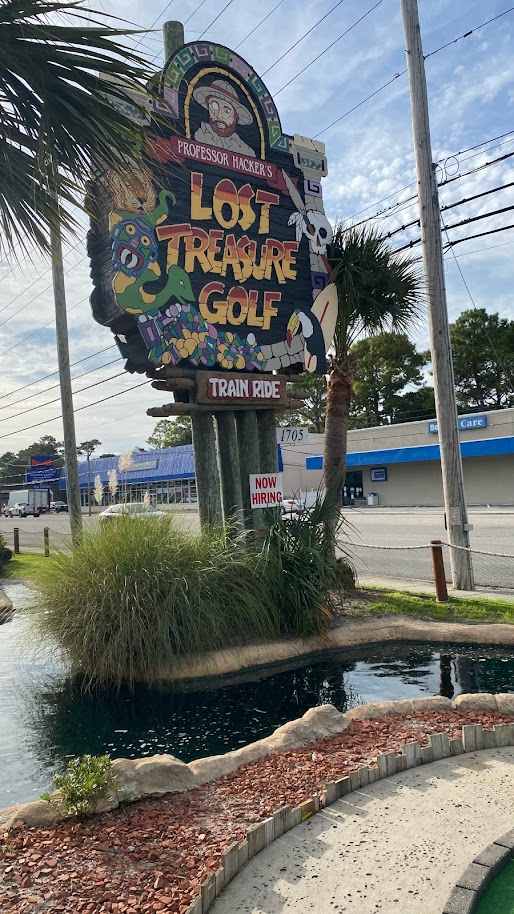 It was a little past 5:00 p.m. when we finished our mini-golf adventure, and we decided to go ahead and find something for dinner. Looking at Waze and searching for nearby restaurants turned up Captain Jack's Seafood Buffet. We were in the mood for seafood, so we decided to go there.
Billed (on their website) as the "best seafood buffet in North Myrtle Beach," the building and parking lot were pretty large. The parking lot was nowhere near full, but at 5:00 p.m. on a Thursday in the off-season you wouldn't expect it to be. We parked and went inside.
Our first red flag should have been that there was no hostess at the reception desk. We waited for several minutes before one of the hostess/server/buspersons came over to show us to a seat. As we were being seated, she asked if we wanted the buffet for two, and mentioned that it's $43.95 per person (which I incorrectly assumed would include a drink). A bit taken aback by the price, I hesitated a second, but we agreed, sat down, and ordered drinks (not alcohol, just soft drinks).
It was truly nothing special. Typical buffet with food kept "hot" (read "warm" (sort of)), and not promptly replaced when low or obviously well past its prime, picked thru/over by previous customers, you know what I mean. If you're in the North Myrtle Beach area and want a good buffet for a similar price (although NOT seafood), go to Rioz Brazilian Steak House. The food there is all excellent, and the meats are brought to your table still on the spits they were cooked on. And it's only $42.50 per person.
A Couple of Low-key Days
On our last couple of days here we didn't do much. We stayed in all day Friday and read, watched TV, and did whatever we wanted to do. This is my idea of a vacation. On Saturday afternoon, we met some friends from Salisbury (who own a condo in North Myrtle Beach) and visited for a while before we headed to Boardwalk Billy's for a somewhat early dinner. Boardwalk Billy's was really busy – only available seating if we didn't want to wait for 45 minutes was inside, which was fine for us anyway. They have some interesting locally brewed draught beers, and I ordered a double-IPA (DIPA) called Dirty Myrtle from New South Brewing. The beer was good, as was dinner.
We left Sunday morning around 9:30 a.m., heading to Kill Devil Hills, NC, to spend a couple of nights to break up the trip back home. Details of the drive will be in the "OBX" blog post… stay tuned…