The Outer Banks
We left North Myrtle Beach around 9:30 a.m. on Sunday, October 24, 2021. We were amazed how quickly we crossed into North Carolina, as neither of us realized how close to the border NMB is. I had looked for breakfast restaurants in the Shallotte, NC, area, and we were headed to a place called Eggs Up Grill which I had hoped was a local, non-chain place, but it's actually a chain across the Southern Atlantic Seaboard states from Richmond, VA, on down into Florida.
The Eggs Up Grill in Shallotte, NC, must be pretty good, because when we got there around 10:15 a.m. it was packed, and there was a decent size crowd waiting to get in. I guess I don't have to tell you that we opted to find somewhere else. I'm really glad we did, because we found a local, non-chain restaurant that had good food, good service, local flavor, and we walked in and got seated right away. What is this magical place, you may ask? It's called "Tee Time Cafe" and it's located right around the corner from the Eggs Up Grill. Highly recommended if you're in the area looking for breakfast or lunch. Note that they are open from 6 a.m. to 2 p.m. daily, except for Saturday, when they close at noon.
We arrived in Kill Devil Hills, NC, early enough to take a walk on the beach just before dusk. After that we walked to dinner at a local restaurant called "Noosa Beach Grill." We mostly stumbled onto it as we were actually walking and headed to a different restaurant. It was another of those serendipitous occurrences that seem to happen to us on a somewhat regular basis, partly because the place we were headed was actually closed (we did not know that beforehand), and the Noosa Beach Grill was excellent.
I had the Fish and Chips and Nancy had the Fish Tacos, both of which were made with the "catch of the day" which was Mahi-Mahi, and both of which were excellent.
I also had a drink called a Jungle Bird, whose black strap rum intrigued me. It was a bit different from what I was expecting – and different from any drink I'd ever had before – and I enjoyed it quite a bit. It had a mild hint of spice to it, which I guess came from the "'island spiced' demerara sugar syrup." Hmmm, I might have to get me some of that (minus the "island spice").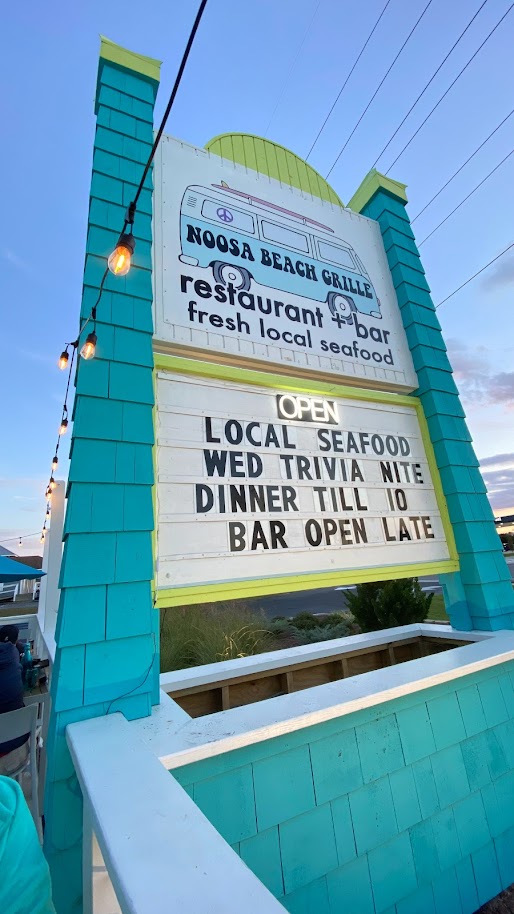 Last Full Day of Vacation
It has been said that all good things must come to an end, and the same is true for road trips. On our last full day, we slept late, went to get breakfast at Waveriders Coffee, Deli & Pub in Nags Head, NC.
As far as I can tell, Waveriders is a local, non-chain restaurant. It's outside seating is pet friendly (we saw a handsome Boxer when we pulled up, and I also noticed that there were several water bowls along the wall next to the sidewalk). They offer breakfast sandwiches all day, a good selection of coffees (well, if you can drink regular coffee; their selection of decaf was, well, a single decaf).
The inside dining room was open and inviting, with an assortment of tables and chairs, and a very relaxed atmosphere. We will definitely put this on our list of go-to places in the OBX.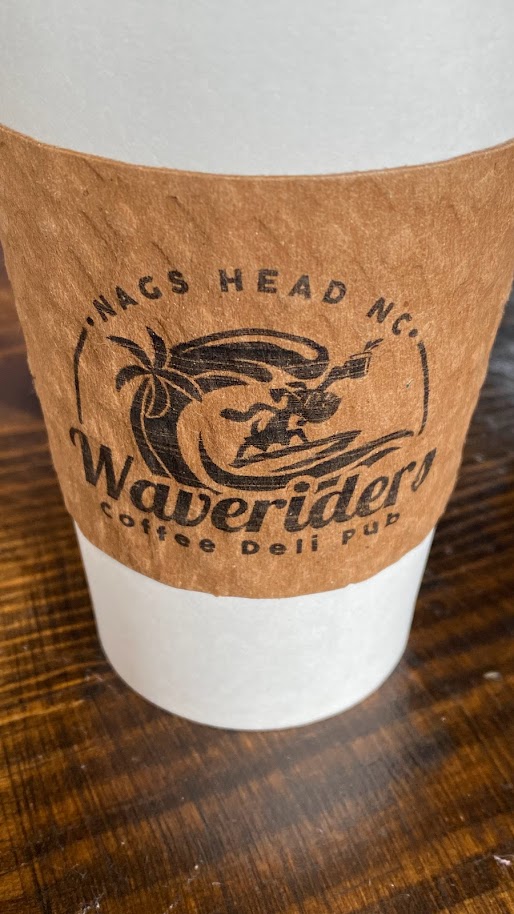 After breakfast, we stopped at the local Food Lion to pick up some extra Kleenex (did I mention that Nancy has had a cold for most of the trip? We're pretty sure it's not Covid, just an average, every-day, garden-variety head cold), more bottled water (we finished up the case that we brought with us this morning), some cold meds, and some snacks (what's a road trip without snacks?).
For the afternoon, we're reading, relaxing, and blogging.
For dinner, we went to a local restaurant called Pigman's BBQ, right on S. Croatan Highway in Kill Devil Hills. It's an unassuming place with good food and service. The BBQ there is – not surprisingly – "North Carolina style" which is a bit more vinegary than either Nancy or I prefer. Still, it was good, and the portion was large enough that neither one of us finished everything on the plate.
After dinner, we stopped at Forbes Candy and Gift Shop, which was right next door to Pigman's. Nancy got some saltwater taffy, I got some dark chocolate fudge and dark chocolate nonpareils, and we got a "chocolate coin" for each grandchild.
There's No Place Like Home
While we didn't just click our heels together and magically wake up at home, we did have an easy, uneventful drive home. We left OBX around 9:30 a.m. on Tuesday, October 26, 2021, and basically moseyed home. We did manage to find a Cracker Barrel in Chesapeake, VA, where we ate breakfast. Then a quick stop to fill up the gas tank, and in less than an hour we were on the Chesapeake Bay Bridge-Tunnel. We arrived home around 4 p.m.